FISHER SHOTOKAN KARATE
CONTACTS
The following contact information is provided to assist persons seeking more information about
training in Fisher Shotokan karate:
Sensei Malcolm Fisher Mobile: 647 705 1808
or
Sensei Malcolm Fisher Email: FisherShotokan@gmail.com
or
Sensei Malcolm Fisher website: http://fishershotokan.wordpress.com/contact/

LOCATION:
Sensei Malcolm Fisher now lives outside of his home town of Kenora, Ontario. He visits Vancouver and Toronto
occasionally to attend to his high value art business.

INSTRUCTION SCHEDULING:
Please contact Sensei Fisher via Email.
Please allow him a week to respond as he is frequently in remote places with neither reliable land line
nor reliable cellular network telephone/internet service.

INDIVIDUAL INSTRUCTION:
Sensei Fisher provides individual karate instruction in Kenora. To attend his classes fly to
Winnipeg, rent a vehicle and drive east for almost two hours to Kenora. For short stays budget $80
to $100 per day for food and motel accommodation and $500 per day for individual instruction.
A direct air connection to Kenora is available via Thunder Bay, but it is less convenient and
more expensive.

GROUP INSTRUCTION:
Sensei Fisher also provides group instruction. A modest group can rent a house in Kenora for about
$1200 per month. Food and instruction are additional. A reliable vehicle is also required.

SUMMER CAMP:
Sensei Fisher is contemplating running a Karate Summer Camp in Kenora. Attendees would have
the option of tent rather than motel accommodation. Karate workouts would primarily be in the high
school gymnasium.

REFERENCE:
Diyari Azad at Brad Jones Karate-do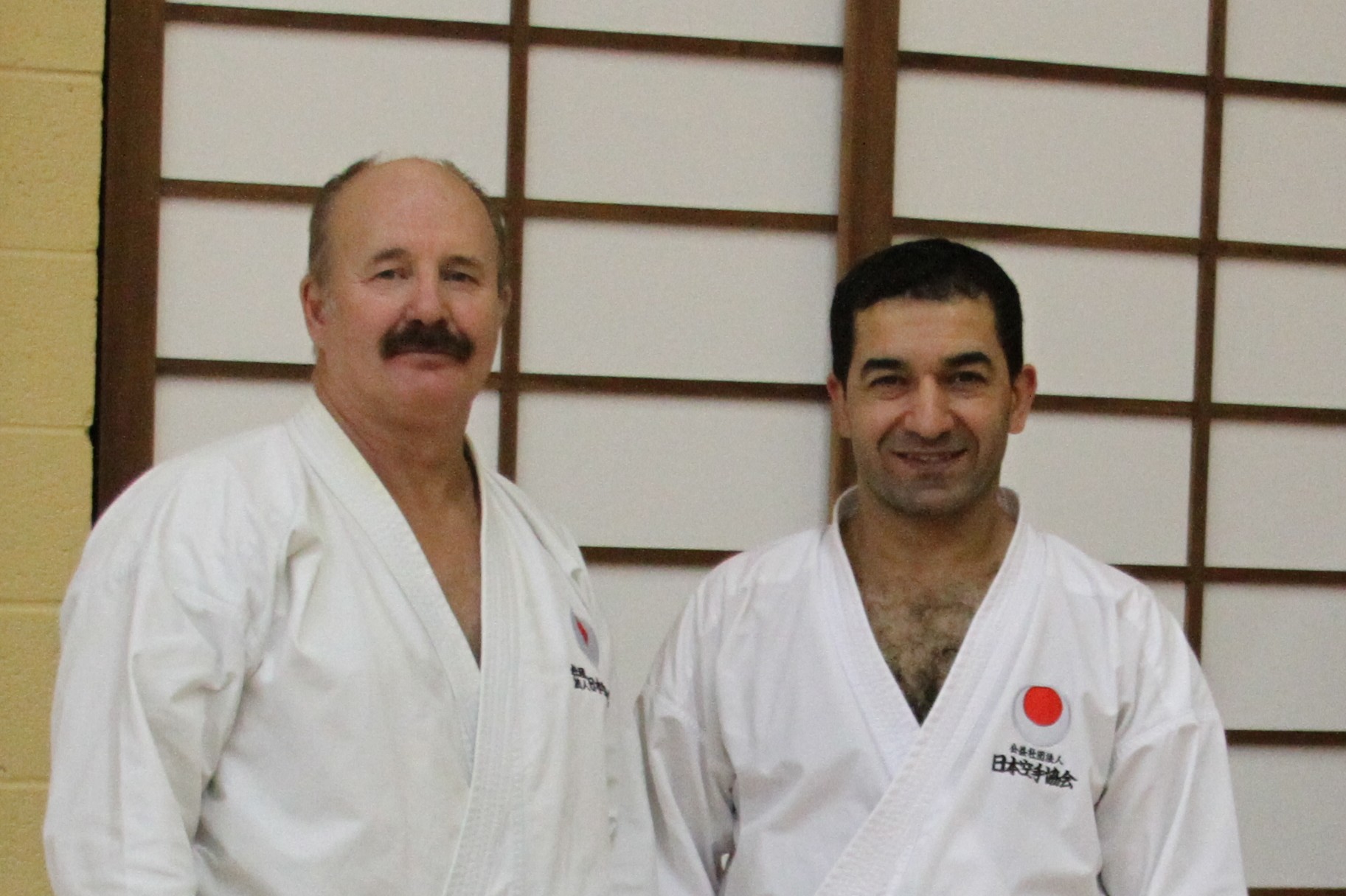 Sensei Malcolm Fisher with Diyari Azad at the Brad Jones Karate-do Kagami Biraki on January 10, 2016.
Photo by Valentin Demidov.

WEB SITE:
For matters concerning www.fishershotokan.ca please contact:
Charles Rhodes
Telephone: 905 473 1704
or
Email: Charles.Rhodes@xylenepower.com

This web page last updated January 15, 2016.